We have answers for all your microblading and permanent makeup questions. If you don't see it here, contact us now at (202)-650-8486 or our Instagram @aparnazeyebrows and we'll answer you within the next business day.
Microblading, powder brows and combination brows are all great ways to get the eyebrows you've worked so hard to create with makeup. Choosing one of these cosmetic tattooing styles results in maintenance-free, beautiful brows. Wake up and go without having to fill in your brows each morning.
What is Microblading?
Microblading is the artistic technique of tattooing individual hair strokes with a handheld tool called a microblade. Unlike traditional tattooing, which uses a machine, microblading artists hand draw each hair to match the color and coarseness of your eyebrows. The result? Gorgeous, natural looking eyebrows
What is Aparnaz Ombre Powdered Brows?
Powdered brows can be done with a machine or hand tool in order to create an ombre look instead of individual hair strokes. We recommend powdered brows for individuals with oily skin, mature skin, and for those wanting a soft makeup look. The soft makeup look means that the tails of the brows are darker and fade to a lighter at the start of the brows, giving them a subtle look. The ideal candidates for powdered brows are those who have hair, but fill in with makeup. If you have thinner brows, we can add in hair strokes after for additional texture. Powdered brows traditionally last for 2-4 years while Microblading usually lasts 2-3 years.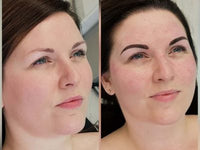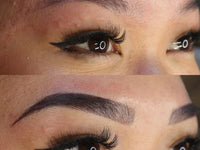 What is Aparnaz Combo 3D Brows?
For clients wanting both the look of microblading hair strokes and shaded, powdered brows, we happy to offer combination brows to achieve the look you've been dreaming of. For combination brows, we use some strokes to create a natural hair look and then add in soft shading through the rest of the brow. Strokes are usually drawn around the edges where they'll be the most visible and then powered shading is added to the body of the brow to give it a full look that retains a beautiful shape every day.
What is Microblading and Microblading with Powder Shading or (Combo 3D Brows)?
Microblading and Microblading with Powder Shading is a new semi-permanent eyebrow enhancement technique. Using a series of tiny, sterile, disposable needles pigment is manually inserted into the epidermis of the skin. We are able to imitate individual hair strokes, to create your ideal brow shape, fullness and color. The effects last 18-24 months after which time the pigment fades and will need a color boost.
Microblading with Powder shading or (COMBO 3D Brows) mimics filling the brows with makeup by adding beautiful depth alleviating any hollow sections of the brows while keeping the natural sweeping hair strokes. This is great for people who have little to no hair of their own, or when their brow hair causes a definitive line through the Microblading.
How long does it last?
Microbladed eyebrows last 1 to 2 years for most people, before it usually needs a touch up. For permanent lips and eyeliner, it lasts 3 to 5 years.
Does it hurt?
Most clients report little or no pain! We use a topical anesthetic before the procedure to numb the affected area.
What is the price
$550-$650 based on the artist.
How long is the appointment
It usually takes 2 hours, with most of the time spent going over colors and drawing eyebrow shapes. The microblading portion lasts 30-45 minutes.
How do I make an appointment?
Call us at (202)-650-8486 or go to our home page and book an appointment.
What should I do before the Microblading & Microblading with Powder Shading procedure?
If you have an ideal shape and color in mind, bring a few reference photos of yourself with you to your appointment.
If you regularly get your eyebrows shaped, waxed, threaded or tinted, please let me know.
Important: You must have any shaping, waxing, threading or tinting done 4 days prior to having your brows microbladed.
If there are any stray hairs that fall outside of our final shape, we can remove them.
You may fill-in your eyebrows prior to your appointment if you wish so we can get a sense of what your daily makeup routine is like.
If you plan to go on a vacation, it is recommended to plan your trip a minimum of 14 days after the procedure.
We also recommend consulting your physician to see if you can avoid prescription blood thinners for 72 hours prior to your appointment. This also includes Vitamin E, Aspirin and Alcohol.
How long does it take to heal?
You'll be able to wear your new brows back to brunch! In the first 7 days, you'll need to avoid getting them wet, working out or wearing brow makeup. It takes about 30 days to completely heal; in which time you may experience mild scabbing. Eyeliner and lip service will be swollen for 2 days after treatment.
What is the aftercare?
Stay out of the sun and water while your microblading heals. Avoid chlorine, exfoliation creams, and sun exposure; they may cause your color to fade. We recommend applying a small amount of A&D ointment twice a day.
When should I get a touch up? How much is it?
We offer a complimentary touch up between 4-8 weeks of your appointment. After that, we charge a fee.
Can I get microblading while pregnant?
No, we do not recommend microblading while pregnant or breastfeeding.
Who is ineligible for microblading
Microblading is not recommended for those with oily skin or large pores. If that's you, you may want a shading or combination shading and microblading technique. We also do not provide microblading for people: under 18 years old, pregnant or nursing, if you have diabetes, glaucoma, skin diseases such as Shingles, psoriasis or eczema on the area of treatment, allergies to makeup, Keloid disorder, HIV/Hepatitis, skin cancer, hemophilia, or if you're taking skin medications like ro-accutaine and steroids.
Can I get permanent makeup if I have Juvederm injections/fillers?
We recommend getting permanent makeup first, or ask your Juvederm specialist for clearance.
Can microblading hide or cover up an eyebrow tattoo?
Often we cannot. But if the previous tattoo or permanent makeup has faded considerably, sometimes we can. We will have to use a combo or shading technique. Read our blog on the subject for everything you need to know about where you can also see pictures of our results.
Can microblading hide/cover my scars?
It's great for that! But we recommend sending us a photo of your eyebrows without makeup so one of our artists can review and let you know whether you're a candidate for microblading.
Does microblading work on all skin tones and skin types?
Yes! Microblading works on all skin tones and colors. Check out our Instagram feed. If you have oily skin, large pores, Keloid disorder, we do not recommend microblading.
What is the difference between microblading vs. micropigmentation?
Technically microblading is a form of micropigmentation, but we use a microblade to hand draw individual hair strokes. Micropigmentation specialists use a permanent makeup machine, which offers less control and results in blurrier strokes.
Does it look like REAL HAIR?
Yes! Because we hand draw every hair stroke, you'll marvel at this super precise technique.
No more drawing my eyebrows every morning? For real?
Believe it! This treatment transforms people's lives! That's why we're so passionate at Microblading LA about the work we do.
How can I learn how to become a microblading artist?
Aparnaz Lash & Brow Bar offers Master Microblading training from one of the top trainers in the industry. Contact us today at (202)-818-9923 and find out more about the training.