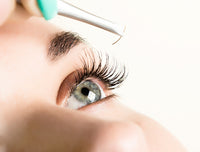 Aparnaz "Classic" Set
With the "Classic" eyelash extension technique, a single faux or synthetic mink lash is applied to each of your natural lashes. The different looks are created in several ways. Technicians can vary the number of lashes applied, the lash curl, the lash thickness and finally the lash shape by varying the lengths applied.
Aparnaz "Hybrid" Set
With the "Hybrid" eyelash extension technique, we use a perfect 50/50 blend of our faux or synthetic mink classic lashes and our "Volume" build-in fans. This new "Hybrid" set combines the premium single lash application technique with the volume application technique. The result is a fuller, fluffier and more textured look.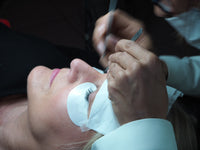 Aparnaz "Volume" Set
With the "Volume" eyelash extension technique, multiple lighter thinner lash extensions are fanned, staggered and stacked onto each natural lash which allows the technician to add significant volume. The "Volume" lashes offer clients a higher level of glamour options.
CLASSIC LASH EXTENSIONS
This is our signature lash application where the attachment of 1 extension is applied to 1 natural eyelash. The result is an enhanced lash line, yet very natural and realistic in appearance. Increasing the amount of lashes applied will provide a fuller, more voluptuous looking lash line.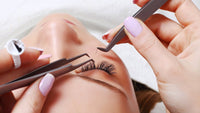 VOLUME LASH EXTENSIONS
This is our premium lash application where we apply 2 or more of our lightest extensions to 1 natural eyelash. Our Volume lashes offer incredible fullness and are longer-lasting than our classic application while still providing a beautiful, natural appearance. Once you have consulted with our expert stylists and decided if Classic or Volume is right for you, the next step is determining just how many of your natural lashes will be enhanced. Did you know the average person has 150-200 top eyelashes? Our Lashes Per Eye (LPE) system guides the most consistent results for our clients. Our three styles, Natural, Dramatic and Extreme, reflect the increasing number of your natural lashes that will receive extensions, using either the Classic or Volume application method.
Everything you need to know before applying for eyelash extensions
Majority of women don't have enough time and patience to put on false strip lashes every day. It is not surprising to know that lash extensions have become very popular in the past few years.
If you are dreaming to have full and long lashes without putting on too much of mascara, you might have considered temporary false eyelash extensions. It has become a leading trend from the past few years and is one way to fulfill the dream of having full and long lashes. Now, the world has moved one step ahead of temporary lashes. These lashes last for weeks. At first, the trend has become predominant in various celebrity circle and in big cities. Despite its popularity, you might have lots of questions regarding classic eyelash extensions such as comfort, cost, prevention, harms safety and process. We have answers to many of your questions to have to better idea about lash extensions.
What exactly are lash extensions?
Lash extensions are the use of synthetic and artificial fiber that are joined with the natural eyelashes using medically tested glues and adhesives. There are three types of lash extensions i.e. synthetic, mink and silk. There is a choice of lash extension in terms of sizes ranging from 7mm-18mm with some curl width choices. The lash extensions make the eye look wider and lifted. With appropriate care, lash extensions can stay over 6 weeks prior to the shedding of all the extensions.
How much time does it require to apply for lash extensions?
It is not a too long process; a complete process takes almost 2 hours. After the first round, it is recommended to go for touch-ups every 3-4 weeks. It is a more economical option to go for a half set of lashes in order to get a dramatic effect by applying for lash extensions as filler to thicken natural ones.
Can you go blind?
It is a common myth and people used to believe that a person can go blind after lash extension procedure. In reality, it is not true. If your technician is professional and expert and applies adhesives and lashes properly, there is no chance to hurt your eyes. Your eyes will remain closed during the whole procedure. It doesn't matter how bad you get an allergic reaction, you will not go blind. You may need to see an eyes specialist get some eye drops in the worst scenario that usually not happen.
What happens if you cry?
If you feel any burning sensation or discomfort while applying for lash extensions, leading to tears in your eyes, this is a big red alert and you have to speak up. The technician may change the type of glue as might be your eyes are sensitive to that glue type. You need to keep in mind that the lash extension procedure is completely pain-free.
Can you wear mascara?
The simple answer is, you simply have no need for mascara with eyelash extensions. Usually, the mascara is not recommended with eyelash extensions because it becomes very hard to remove and can break the bond. If it is really necessary, use mascara only on lower lashes and don't use a waterproof one.
After how much time do you need to again lash extensions>
It related to the natural cycle of eyelashes growth, which is generally 6 to 8 weeks. It is a range because every person's lash growth cycle varies. Each lash extension is attached with a single natural eyelash and they fall out with the natural ones with the cycle of each lash. Therefore it is recommended touch up every 3 to 4 weeks.
Questions you should ask while looking for a reliable salon
Finding a reputable and reliable certified professional is crucial because it involves the most sensitive part of your body i.e. eyes. You can search eyelash extensions near me and you will find many experts for eyelash extensions. Experts use proven and professional products and are properly trained in their work. They are expert in applying for lah extensions without causing any damage to your natural eyelashes and especially your eyes. Always ensure that they are licensed and certified in their field. Also, look for eyelash extensions before and after photos and check for reviews. You also have told about your preferences like choosing one from the three types of eyelash extensions, length of lash extension and either you want full lashes or half. Looking at eyelash before and after photos, you will have a better idea of the technician's work.
Tips to carry lash extensions and things to avoid
Similar to any other treatment like a blowout, be polite with your eyelashes. Use protective coating on whole lashes after 48 hours of procedure and use soft silk or satin pillowcase because cotton can cause drying. Don't use a mechanical lash curler with extensions. If you feel your eyelash extensions are falling, use a heated lash curler to politely lift them up. You should avoid touching lash extensions frequently and applying cream based liners on the top lid. Also, avoid tight lining with lash extensions as it can disrupt the base of the lash extensions where the bond is very critical. The protective coating will act just like the topcoat of nail paint. It will cover the adhesive area protecting the lash extension from oil, dirt, and makeup. It can prolong the hold of lash extensions until next touch up round. This is all about the eyelash extensions and it is not as high maintenance as people think. If it is your first try, you may feel it little overwhelming at the first day, but you will get fine with it after a week and will be blinking those full and long lashes in no time. Make sure you know about eyelash extensions pros and cons before starting the procedure. If you have decided to go for it, search google for eyelash extensions near me and if you are living in Washington, D.C., United States you can get reliable services at www.aparnazeyebrows.com.